My last Bee group of 2013 was "
Bee Sew Modern
" and ended back in September. I chose the wonky pinwheel block by Greenleaf Goods. You can go
here
for her tutorial. I just love her finished quilt! I changed the block size so I could get a little bit bigger finished quilt. I had everyone use 5" background squares instead of 3.5" that was called for in the tutorial. The block ended up being 18.5" unfinished. Here is mine:
And here is the finished quilt:
I really need to get busy and quilt some of my finished tops. I'm getting too many of them :) This one was suppose to be a Christmas present! Obviously it didn't get to that point since I was sick so I have decided it will be my February goal for "A lovely Year of Finishes". I hope to get it quilted and bound before the end of the month. Wish me luck :)
go
here
for the goal setting party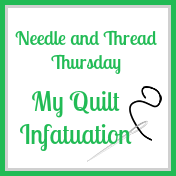 linking up here, too!